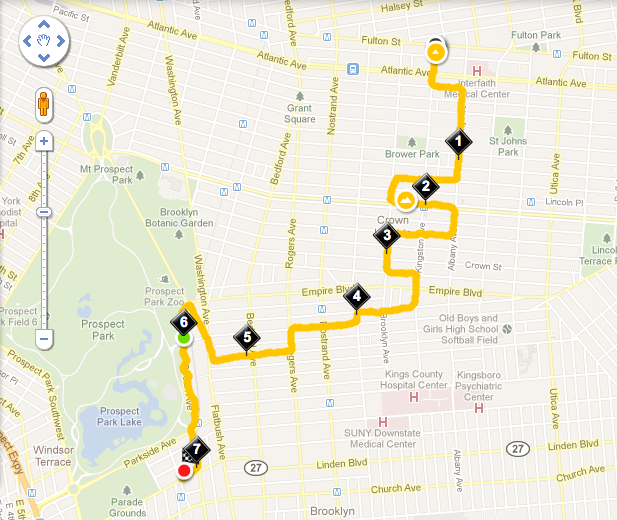 For my Applications class I was asked to go somewhere I have never been to before in the 5 boroughs and write about what I saw and took in. I had a friend pick a random subway stop, made sure I have never been there, and took my skateboard to wonder around the area. The stop that was selected was the Kingston-Throop Avs Station on the C line, this stop dropped me off in Crown Heights, Brooklyn. To keep things random and new I decided to let the traffic lights guide me on my tour, if it was green I would go straight, red would be either a left or right turn, generally trying to go with the traffic. Also to set a timeframe I created a music playlist that would play for 30 minutes, once the music stopped my journey was complete. To keep a track of where I went I used the Nike+ iPhone application which uses the phones GPS to track my location and plot it on a map. I also documented the trip by taking a picture every so often.
Although I started my trip in Crown Heights I went through two other neighborhoods along the way, Prospect Lefferts Gardens and Prospect Park South. I started on a very busy street lined with businesses and it appeared to be predominantly Caribbean, based on the people walking around and the restaurants in the area. As I continued south and got deeper and deeper into Crown Heights the area became much more residential and I ended up riding through tree lined streets with gorgeous town houses everywhere. As I continued weaving through traffic, while listening to Mother by Danzig, I found myself seeing less African Americans and more Hassidic Jews roaming the streets. At this point I had just crossed over the Eastern State Parkway and was on the outskirts of Prospect Lefferts Gardens. As I continued on through more residential streets with even larger more extravagant homes, I started seeing RVs and trucks with pictures of Rabbi's on them and where labeled things like Matzov Tank, supporting the idea that this is mainly a Jews community. As I started to go west the area suddenly went from residential homes to a huge street, Flatbush Avenue, and I noticed that I was on the south side of Prospect Park. As I was skating next to the park my final song ended and I noticed I was right in front of a sweet old Hispanic lady selling ice cold water, what a perfect end to a 30 minute, 5 mile skateboarding adventure through the heart of Brooklyn.
Based on this trip I learned that there are quite a few vastly different communities in very close proximity to one another. Also the area can quickly turn from families in their front gardens to massive 4 lane streets lined with businesses, restaurants, bars and bodegas in a split second. I honestly enjoyed this project so much I think I will continue to pick random areas in the New York area to explore and see what they have to offer. I would like to report that on this journey I only fell once and was only hit by one car, or rather ran into one that was parked on the side of the road, and no injuries.
Playlist:
Ms. Connection — Film School
Natural One – Folk Implosion
Ramp of Death – Stephen Malkmus & The Jinks
Suicide Invoice – Hot Snakes
Testing – CKY
Time to Pretend – MGMT
Video Tapez (Ft. Del) – AmpLive (Rainydayz Remixes)
The W.A.N.D. – The Flaming Lips
Mother – Danzig
Air War (CFCF Remix) – Crystal Castles